For those of you who know me, and I know some of you do very well, you know how much I love education, learning, Certification, and most importantly.. Sharing the goods with everyone else! Well, this situation is no different!
I'm now able to take advantage of this special promotion for MCT's which allows me to share discount vouchers with you! Discount vouchers to the tune of 10% to 20% off on Certification exams (depending upon the country)
All you need to do is let me know you want a voucher, provide an email address and country (and number of vouchers you're looking to use) and I can supply that to you! You can reach me on Twitter @cxi, here by a comment, or sending me an email
You have no idea how excited I am to have this opportunity to share with you, so lets take advantage of it, I know I will :) Below are the details and a brief look at what is available.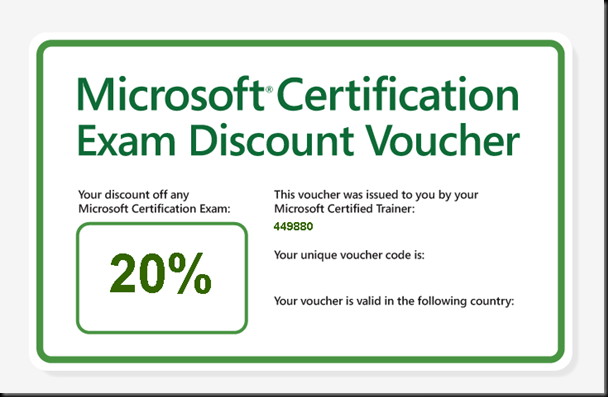 This voucher is redeemable for one Microsoft Certification Exam delivered at an Authorized Prometric Testing Center™. This voucher expires June 30, 2010. You must take your Microsoft Certification Exam prior to this date
Why you should get certified Learn more
When you earn a Microsoft Certification, you are demonstrating your knowledge and skills with Microsoft products and technologies, while validating real-world skills and job-related experiences that are used every day. Whether you are new to technology, changing jobs, or a seasoned IT professional, becoming certified helps you prove to peers and employers that you are committed to advancing your skills and that you are a candidate for new opportunities and career growth. Plus, as a Microsoft Certified Professional, you'll have access to a vibrant, worldwide community of other certified professionals.
Save 40% on a 60 Day Online MeasureUp Practice Test Learn more
You've made a great decision to certify your training and experience. Now make sure you are ready to pass the exam using a MeasureUp Practice Test. MeasureUp Practice Tests questions are written by subject matter experts and designed to test the concepts presented in the actual exam. Performance-based simulations are included in some practice tests as an additional test of the student's capabilities.
Save 40% now using your voucher number and prepare for certification success.
1 2006 MCP Customer Satisfaction Survey • 2 Redmond Magazine's 2006 survey of compensation for Microsoft IT professionals • 3 IDC Study: Value of Certification: Team Certification and Organizational Performance, Nov 2006 •This voucher may not be combined with other vouchers and discounts. It is no longer valid after the expiration date; This voucher is nontransferable and is void if altered or revised in any way. It may not be redeemed for cash, credit, or refund and may only be applied towards Microsoft Certification exams. Microsoft ,Prometric™ and Authorized Prometric Testing Centers™ are not responsible for vouchers that are lost or stolen. Any resale of this voucher is expressly prohibited. Microsoft is a registered trademark of Microsoft Corporation in the U.S. and other countries. Prometric and the Prometric logo are registered trademarks or trademarks of Prometric and its affiliated companies.
The fine print:
* Only MCTs can request MCT Rewards Discount Vouchers. You can offer MCT Rewards Discount Vouchers to students who have attended one of your instructor-led classes or one of your colleagues' classes. You can also offer discount vouchers to people who you reach through your personal network or through your blog, website etc. These vouchers will be personalized and will include your name as the trainer that provided the discount voucher and you will receive points for each redeemed voucher. Please note that MCT Rewards Discount Vouchers may not be resold. Discounts may vary by country. For a list of discounts by country, (let me know ;))