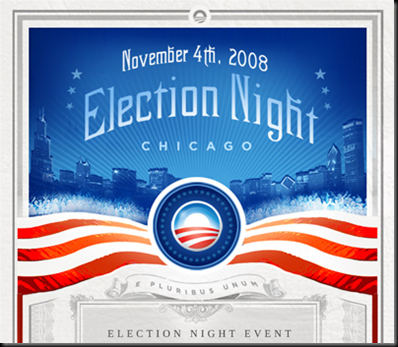 Do you have a ticket for what is the biggest political event in a century, or even more?
If you do, you'd receive something looking like this from the Democratic Party.
If you saw my previous post on what the "You got it" or "You've been wait-listed" emails look like, you are likely in this very position of either having this ticket, or planning on going ticket-less down for the festivities! (Unless you plan on partying with Biz Markie!)
So, here we are, a day away – Ticket or no ticket in hand. How do you plan to prepare for this?
By now, if you haven't read the FAQ on how to handle yourself on the grounds, it's a good time to get that FAQ all read up!
The raw logistics:
They will start letting people into the Ticketed event at 8:30PM
The only entrance (ticket or non) is on Congress Parkway at Michigan Avenue
Take Public Transit – No Street Parking, and Parking lots will be considerably full
Don't bring bags, chairs, strollers, alcohol, – Try to keep it to a small purse
Nothing has been said about Cameras, Camcorders, Phones – So that sounds safe
This will be a standing room event only – wear sensible shoes!
If violence breaks out, remain calm and let the many Security folks do their jobs
~1400 Police will be on duty for this event
Get out there and VOTE! before coming. I voted last week. :)
Bring valid Identification – No need to get a hassle there. (I got my new ID today)
So, hopefully this little Tutorial/FAQ helps to provide you the right information for this once in a lifetime event in our worlds history.
Feel free to say Hello if you see me out there in the crowd. :) I have a number of friends who will also be there, and if I can do as planned – I should be wearing a suit of sorts. :)
Take care, and don't hesitate to yell out "Christopher!" in the crowd if you're looking for me. :)
-Christopher