Wow, we're finally here! Version 6.2 has arrived and woot is it a hoot! (That wasn't intended to rhyme, but welcome to the party regardless!
This blog post will be filled with lots of cool things, lots of announcements, and a commentary on the 'ONE VSAN to Rule Them All' which is strangely more true than you can imagine!
So let's get started! OMG it's for all workloads, yada yada. You can read marketing slides. This is one of them, simply saying "Yea we can do this", a little side note. VSAN currently has over 3000 Paying Customers! Compare that to other 'enterprise storage vendors' who have products in the market place. I won't EXPLICITLY call any out, but as I see various stock prices tumbling and I look at their user bases being similar, it leads me to say, "Hey! VSAN has grown and grown and grown year over year, well done!"
I did include a quote from Oregon State University because I live in Portland now, and I wanna Represent! :) <3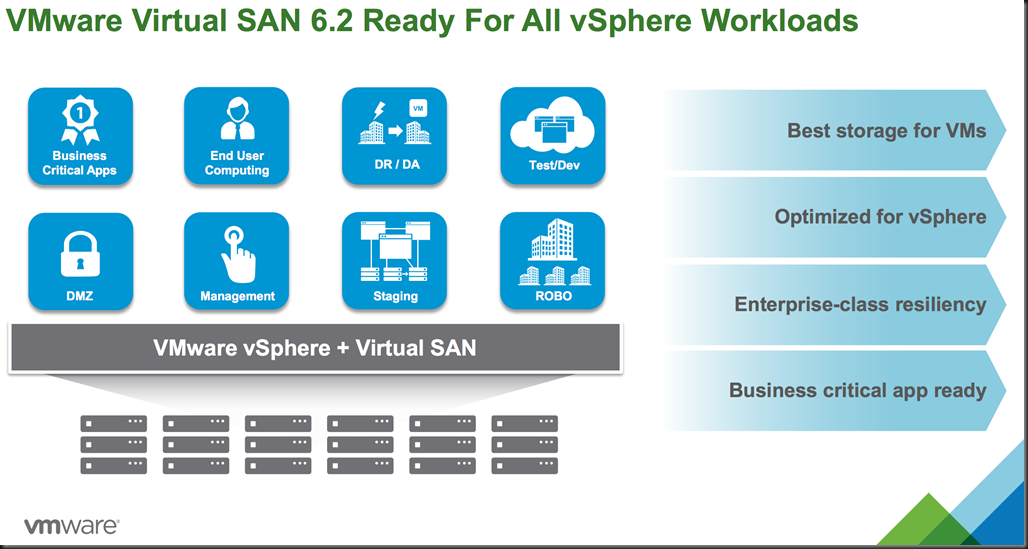 So there's lots of cool slides I can share. I won't. I'll share a few poignant and selective ones, but my real focus here is on what is NEW and what things can be impacted and in general things to watch out for as well!
What's New?!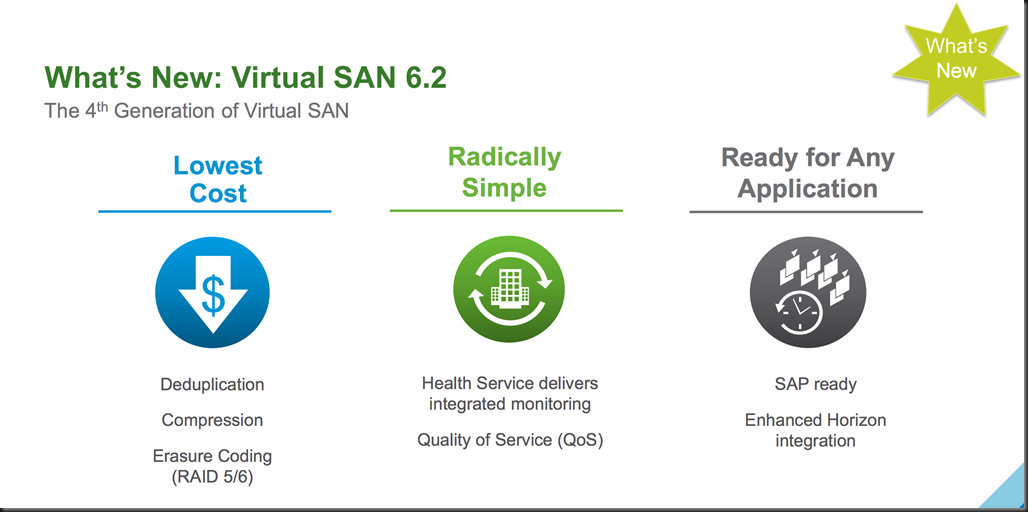 I'm sure most of you can read, so you'll see some things in particular which are exciting and I'll go into greater detail are things like DEDUPLICATION, COMPRESSION, ERASURE CODING! Yea SAP Ready is nice, and blah blah blah….
Most new features you and I care about are ALL FLASH ONLY
I think I should repeat that just in case it was lost in translation.  In the following slides I'll be including you will be wise to notice in the top right corner the phrase "ALL FLASH ONLY" okay, it's not in caps on the slide, but I'm putting it in caps for effect. Why? Because if you're thinking, "Yea, I can do this with a ROBO LICENSE and two servers" No! STOP IT! NO YOU CANNOT! ALL FLASH ALL FLASH ALL FLASH! And if you cannot read caps, "Most of the features I will be discussing require an all flash solution, which requires all flash in your servers as well as an All Flash license. Plan accordingly"
So the above features so heavily anticipated. Deduplication and Compression, and Erasure Coding whether RAID 5 or RAID 6 – These require All Flash in order to work.
ALSO note that RAID5 requires a MINIMUM of 4 nodes and RAID6 requires a MINIMUM of 6 nodes.
I'm sure there'll be dozens of blog posts released today which go into even further depth on this. So note, these are some of the key differentiators and points of importance should you choose to adopt this. So don't expect erasure coding in your ROBO instance, that's still a 'mirrored' configuration (Or in your 3 node Essentials licensed system – that'll not only require you to be in vCenter Server Standard to do more than 3 nodes, but again… you'll need the all Flash License…)
Oh look! Other protections!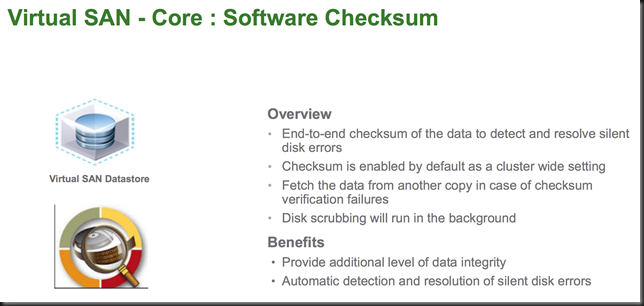 Yea, you have other means of protecting your investment… Well, you don't per se, it's built in so it will be doing it on your behalf, but it's good to know that disk scrubbing does run in the background!
What else is new?!!?
Alright, there are some other new things, it won't all be storage centric things as much as I had hoped!
As you can see from the list there are definitely a few other new things, like QoS (Awesome), IPv6 support (Err, who cares?) Enhanced application support (Pretty awesome), better healthchecks (They were already GREAT, and now they're better?!?) and lastly cache and sparse enhancements, a great way to finalize up the list!
So as you can see not only is 6.2 not a "Point" release it comes with it some pretty AMAZING functionality and capabilities! 
But with any good release it comes with great responsibility…  Be sure you do your homework and research as you adopt down this path so you know what you're getting yourself into.  You'll be able to get the spread of economies of scale, compute and storage node calculations, and other jibber jabber differences! 
Get excited because this is one of the coolest things to hit VMware in a long time! <3